Community Spotlight: Jenza Aranda
Reported by CCP Eterne

|

Comments
Jenza Aranda is a well-known name in the DUST 514 community. As leader of BetaMax., she's been around DUST since the very first iteration of closed beta. In that time, she's made a name for a variety of initiatives she's taken in the community, including a live streaming for charity.
Streaming for Charity
Jenza has, as mentioned earlier, been playing DUST 514 since the early stages of closed beta. She continues to have fond memories of the original Skirmish mode, despite the problems with it. When the closed beta was coming to and end, she decided she wanted to do something more with the community. However, she didn't want to do something that was unspectacular and ordinary.
To that end, she decided to live stream for 24 hours straight and use the effort to raise money for charity. She and several other members of the DUST Community got together to put the stream together. In total, they raised $350 for charity which went to Child's Play, the well-known charity that helps provide ill children with video games.
Female Gamers
Jenza is also one of several female players of DUST 514 and has been very vocal in encouraging other female players to stand up and join in with the community. According to Jenza, the majority of the community has been pleasant and has not acted the part of the typical gamer stereotype. However, to those women who are playing DUST and run into trouble makers, Jenza has some suggestions.
Either ignore it, learn to roll with it, or treat it as banter and banter right back at them. Jenza's proof that skill and fortitude will overcome anyone who tries to make an issue out of something like gender.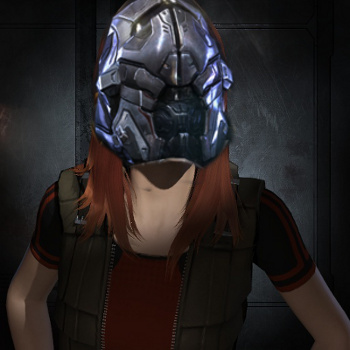 Not a face you want to mess with
The Future
Of course, Jenza is not content with a single live stream and calling it a day. She wants to run another charity stream, this one even bigger and better, and make it a semi-regular thing. The goal is lofty, but Jenza believes streams like this are a wonderful way to showcase the community and show off to people how fun it is to play DUST. The more people that play DUST, the bigger and better the community, and hence the charity drives, can be. And it certainly doesn't hurt her to have more people to get into matches with and show what she can do on the battlefield.
As far as DUST 514 is concerned, Jenza, like everyone else, is looking forward to Uprising. While she's interested in Planetary Conquest, she also has high hopes for more iteration on the Dropship and hopes for an assault version which will let her do more shooting.
Technical
Jenza uses an Elgato Game Capture HD and the game capture HD software that comes with it, running on an iMac. She's been investigating other tools for the future, such as CamTwist or CamStudio, to allow more flexibility and make the streams more interesting. She hopes in the future to have video of herself or other streamers playing in a corner of her own stream.
Closing Thoughts
Players can keep an eye on www.twitch.tv/jenza514 for Jenza's future live streams. She has uploaded several of the good parts of her stream at www.youtube.com/betamax514, which also has some other interesting videos as well.