Download for free
Recruit Your Friends
Recruit your friends to DUST 514® and you'll all earn awesome rewards!
We're looking for the best of the best to battle across New Eden as immortal mercenaries. If you have friends hungry for conquest, or who know their way around a battlefield, get them to try out DUST 514. The more they play, the better the rewards you both get!
Enlist your allies
We want committed mercs – players who really hit the ground running in DUST 514. So we're not just rewarding you for quantity but for quality. Your rewards improve as your recruits earn more War Points through gameplay.
Milestone 1
Whenever a recruit reaches 25,000 War Points, you will get 25 copies of the deadly HK4M Shotgun.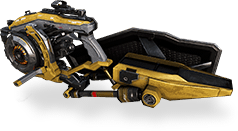 Milestone 2
Every time a set number of recruits reaches 100,000 War Points each, you will reach a new milestone, with better rewards.
See the chart below for the milestone thresholds.
| Recruits | Permanent Item Rewarded | Skill Booster Rewarded |
| --- | --- | --- |
| 1 | Staff Recruiter Assault Dropsuit | Staff Recruiter Active Booster (1-day) |
| 2 | Staff Recruiter Assault Rifle | Staff Recruiter Active Booster (1-day) |
| 3 | Staff Recruiter Scrambler Pistol | Staff Recruiter Active Booster (1-day) |
| 4 | Staff Recruiter Sniper Rifle | Staff Recruiter Active Booster (1-day) |
| 5 | Staff Recruiter Laser Rifle | Staff Recruiter Active Booster (3-day) |
| 10 | Senior Recruiter Assault C-I Dropsuit | Senior Recruiter Active Booster (7-day) |
| 25 | Senior Recruiter Light Assault Vehicle | Senior Recruiter Active Booster (15-day) |
| 50 | Master Recruiter Assault C-II Dropsuit | Master Recruiter Active Booster (30-day) |
What will my Recruits get?
Once your Recruits create an account and log into DUST 514, they'll receive a Recruit Assault Rifle and a 7-Day Active Skill Booster to help them kill and skill. And the more War Points they earn, the more Recruit gear they'll unlock:
Earn 25,000 War Points to light enemies up with a Recruit Submachine Gun.
Earn 100,000 War Points and get a Recruit Militia Dropsuit to wear into battle.
---
Terms and Conditions
Any active DUST 514 account may send Recruiter invitations.
Recruit accounts must be created using a link provided through the Recruiter Program. Be sure your friends use a Recruiter Program invitation to create their account in order for rewards to be granted.
To be eligible for rewards, the new Recruit account needs to be activated, and the Recruit needs to log into the game.
Please note that once your Recruit signs up for an account, rewards may take up to 24 hours to be applied.
CCP reserves the right to restrict eligibility for some rewards according to criteria established by CCP in its sole discretion, and published by CCP from time-to-time, including but not limited to minimum client log-in time of the inviter.
CCP reserves the right to restrict eligibility for rewards according to requirements of applicable law, including but not limited to minimum account age. All rewards void where prohibited by law.
The Recruiter Program is intended for you to encourage new players to join DUST 514. Violating the purpose of the Recruiter Program in any way or form is prohibited. Violations of this rule will be handled by DUST 514 Customer Support, and action will be taken against players who violate this rule (including, but not limited to, warnings or bans of the offending accounts).
Abusing the Recruiter Program is considered an exploit and will not be tolerated. Incidents will be handled on a case-by-case basis and action taken may include bans for all accounts involved and/or confiscation of ISK and items. Abuse includes, but is not limited to, farming gifts and making throw-away alts for grief-play purposes.